The project
As Master Builders, Parsons Construction are known for their award-winning, architectural homes around Christchurch and this stunning residence in Mount Pleasant is no exception to their usual high standards.
Featuring a complex hillside construction and floating balcony, the client needed an exterior waterproofing package comprising the balcony and a quality roofing solution that suited to the style of the home. Having worked with this team on many projects over the years, they trusted that we would deliver the best result.
In two months onsite, we:
Created a fall for the external balcony using Bostik UL screed to manage water flow
Coated the balcony with Equus Chevaline Dexx liquid applied waterproofing membrane for a durable, protective finish
Fully waterproofed the roof with Viking Enviroclad TPO roofing membrane
Our highly skilled experts had the expertise to get things right the first time and they delivered this project seamlessly.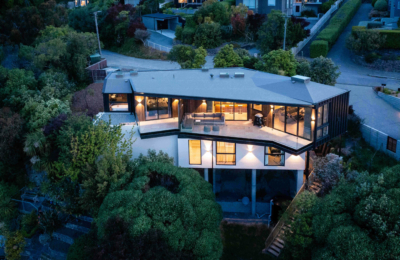 The result
Creating the right solutions and ensuring a high quality of waterproofing is of the utmost importance in protecting a home for the long term. We delivered this project on time and on budget, with a happy client (and colleague) as a result; another example of our track record of completing work to the highest standards.
"I have been a client of WPC since James started his business around 15 years ago and I've never once felt the need to change to a competitor."
Nick Parsons
Owner/Managing Director at Parsons Construction Ltd
The whole team at WPC are excellent; both from a communication point of view and their ability to produce quality workmanship. These skills are absolutely crucial when it comes to highly complex architectural builds—our main area of expertise. We recently built our own home and it was a no brainer to use WPC for our roofing and waterproofing requirements. We're so happy with the end result.
Whether you need our services in isolation or together for project efficiency, we can help.
Get in touch