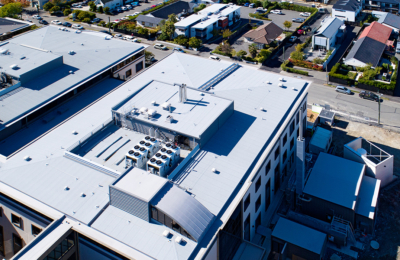 The project
Higgs Construction is one of the largest privately owned construction companies in Christchurch. Over the years, they have successfully won a number of projects for St Georges Hospital. For stage 3 of the redevelopment, they entrusted WPC to install the roof as well as waterproof the building urgently, add structural integrity to the pre-cast panels and provide fire ratings to pre-cast panel joints.
For this project, we used Equus Warm Roof on a metal tray deck. The metal deck was a practical solution for this build, to help reduce the amount of structural work required on a standard roof design. It is also a quicker install which assists in keeping the building water-tight for other trades. Not only does this system provide a waterproofing solution, but also insulation.
We applied Equus Chevaline Dexx liquid membrane to the plantroom interior, Sikafire 400 fire rated sealant to precast panels, and Sika Grout 212 to precast panels, base plates, stairs and landings. The project took approximately 3 years to complete.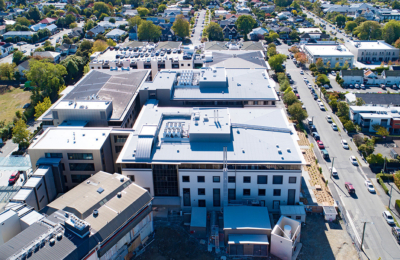 The result
WPC completed the project in a timely manner, within budget and to the high standard we are renowned for. The carpark ramp on the existing building at St Georges Hospital which has leaked for many years was resolved by WPC using a Sika inject 101, 201 and 306 injection system.
We worked in partnership with Higgs Construction to provide the best solution with grout, sealant, roofing, tanking, coatings, and concrete injection. Whilst on site, we were in regular consultation with Higgs regarding water ingress issues and with various suppliers to successfully provide a solution for the repairs.
"The key benefit WPC add to our projects is their technical expertise relating to the type of products that they offer and their ability to provide us with real construction solutions. They work with us to provide our clients with alternative solutions which can be of financial benefit, because they offer quite a range of services." Paul Harris, Company Director, Higgs Construction.
WPC have worked on multiple projects with Higgs Construction since the onset of our business. "Like all work that we have been involved in with WPC, this project went extremely well due to their attention to detail and their technical ability to undertake the task."
WPC completed the quoted works and assisted with Higgs Construction's unique requirements throughout the build. Continuously trusting us to deliver during the construction process, we grew our scope of work with the Higgs team to overcome any problems that arose.
Paul Harris
Company Director, Higgs Construction
WPC's work is very streamlined, they're professional, and they understand that construction doesn't always go as intended. They are nimble enough to change a sequence in the build which is pretty important, and they're very receptive to change and suggestions
We can help shape the cityscapes of New Zealand through construction partnership.
Get in touch