The project
Downer are a large civil construction contractor servicing New Zealand with roading, water, and infrastructure. WPC were trusted by Downer to carry out crack injection and grout strengthening to the Bridge of Remembrance in Christchurch.
Downer needed us to carry out crack injection using the Sikadur 52 epoxy injection system to the heritage stone installed restoring integrity to the structure whilst working to preserve both the structure and the surrounding fauna. This meant we needed to create unique solutions to protecting both the environment and the heritage stone.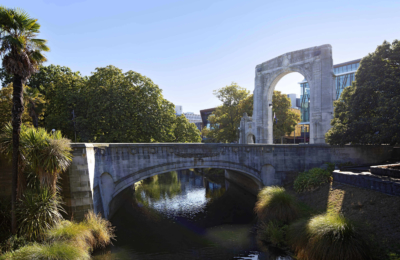 The results
Structural integrity was restored to the damaged concrete using Sika epoxy injection systems and the columns were strengthened with a high strength Sika 212/215 structural grout. The Bridge of Remembrance has since held up to a multitude of subsequent earthquakes without any signs of faulting.
WPC delivered on the project without any issues and within the time frames provided. We also presented unique systems and expertise to achieve the results this project demanded. WPC continues to work with Downer for challenging projects like this that require a high level of expertise and specialist application.
We can help shape the cityscapes of New Zealand through construction partnership.
Get in touch